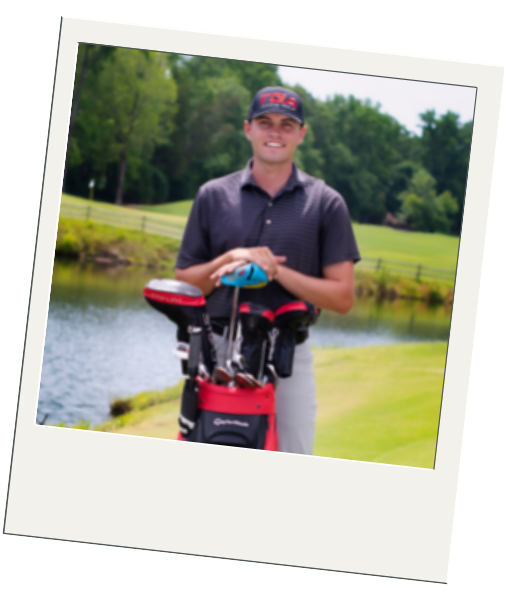 Our "Tales from the Tour" segment featuring TGA Professional Athlete Ambassador Danny Guise is back, and this time we have four new questions alongside a recap of his July tournaments.
Don't forget, you can email Info@PlayTGA.com with a question for Danny, and we will be selecting a few each month for him to answer.
DANNY'S JULY 2022 EVENT SCHEDULE
DATE(S)

EVENT

LOCATION

RESULT

7/4

PGA TOUR:

Barbasol Championship
Monday Qualifier

Nicholasville, KY

T(58)

7/11

KORN FERRY TOUR:

Memorial Health Championship Monday Qualifier

Springfield, IL

T(17)

7/18

KORN FERRY TOUR:

Price Cutter Charity Championship Monday Qualifier

Ozark, MO

T(3)

7/21 – 7/24

KORN FERRY TOUR:

Price Cutter Charity Championship

Springfield, MO

–

7/25

PGA TOUR:

Rocket Mortgage Classic Monday Qualifier

Wixom, MI

–

7/28

PGA TOUR:

Wyndham Championship Pre-Qualifier

Advance, NC

–
1. WHAT HAS BEEN YOUR FAVORITE MOMENT ON TOUR THIS MONTH?
I haven't really had a "favorite moment" yet for this month on tour so far, but I am very much looking forward to the big junior golf clinic I have scheduled in the Detroit area with the TGA of Michigan at the end of the month. 
Like I've said in the past, being able to work with young juniors and give back to the game that has given me so much along the way, is something I enjoy very much. That will be a fun day and I hope to qualify for the Rocket Mortgage Classic that week as well.
2. WHAT ARE A FEW OF YOUR GO-TO STRETCHES BEFORE PLAYING A ROUND OF GOLF?
I have a very structured stretching and mobility routine that I do every morning before a tournament round.
I make sure I target my hamstrings first with a few stretches as well as mobilizing my glute muscles with some band work. If my lower body is turned off and not activated before a round, it will be very hard for me to get my swing going and possible injuries may occur. 
Once I've got the lower body worked out, then I'll work on my back and shoulders to get the mobility I need there. It usually takes a minimum of 20-30 minutes so I have to plan accordingly in order to make sure I get it done right. If I don't do this, I know I won't be able to perform to the best of my abilities and I can't afford to have that happen. 
It's important to take care of your body, especially when playing a sport like golf that is so severe on your body.
3. DO YOU PREFER STROKE PLAY OR MATCH PLAY AND WHY?
It's unfortunate that we don't get to have too many match play events to play in, so I'm not used to that format unless I do it with buddies when we are practicing. It's fun to compete head to head with someone as opposed to battling the course like you do in a regular stroke play event. 
Each format has completely different strategies that you have to understand and be good at, so it can bring out a totally different side of you. I don't really have a preference, but match play is certainly fun to entertain every so often to get a different feel and compete a little differently.
4. HOW OFTEN DO YOU PLAY GOLF ON YOUR DAYS OFF?
There's not too many days off for me! I'm always grinding on my game to get better. I don't want to lose any ground on my competitors. I practice and workout pretty much everyday when I'm not competing. 
If there's a rare day that I take off from practice, I can guarantee that I'll have an intense workout planned to make sure I keep my body in check. When you compete at the highest level, there's no room for slacking off.