Our "Tales from the Tour" segment featuring TGA Professional Athlete Ambassador Danny Guise is back, and this time we have four new questions alongside a recap of his June tournaments.
Don't forget, you can email Info@PlayTGA.com with a question for Danny, and we will be selecting a few each month for him to answer.
DANNY'S JUNE 2022 EVENT SCHEDULE
DATE(S)

EVENT

LOCATION

RESULT

6/13

KORN FERRY TOUR:

Wichita Open
Monday Qualifier

Nashville, TN

T(22)

6/16

PGA TOUR:

Travelers Championship Pre-Qualifier

York, ME

T(32)

6/20

KORN FERRY TOUR:

Live and Work in Maine Open Monday Qualifier

Ellington, CT

T(40)

6/27

KORN FERRY TOUR:

TPC Colorado Championship Monday Qualifier

Berthoud, CO

–

6/30

PGA TOUR:

Barbasol Championship Pre-Qualifier

Nicholasville, KY

–
1. WHAT HAS BEEN YOUR FAVORITE MOMENT ON TOUR THIS MONTH?
My favorite moment so far this month would have to be the clinic my dad and I ended up doing for TGA of Westchester at Dunwoodie Golf Course. Once we knew I was coming up to do the Travelers Qualifier up in Connecticut, we thought it would be a fun idea to schedule a clinic while I was home. Even though it was a super last minute event, we were able to get about 20 kids to sign up. I always love giving back to the game and teaching the kids.
2. HOW DO YOU PREPARE FOR GOLF COURSES YOU HAVE NEVER PLAYED AT BEFORE?
This is a great question. Everyone has their own way of prepping for a golf tournament, especially when it's on a course they've never seen before.
I always get to the tournament a day or two early to see the course and develop a game plan. There's a few things I think about when I'm going through my practice round. I like to play aggressively off the tees, so I try to play to my strengths and see where I can hit driver and take advantage of my length on certain holes or even all the holes if it allows it.
I also look to see where the hole locations can possibly be located on the greens and figure out where I can or can't miss it relative to the spot it's in. Each hole, I make sure I get a good look at each of the green complexes so I know how the putts break on each hole before I even start the event. The more comfortable I get with the golf course and my game plan, the more confident I can play come tournament time.
3. HOW DO YOU MANAGE NERVES WHILE PLAYING IN A TOURNAMENT?
Nerves always come with playing sports. It's something that you have to embrace and find a way to thrive under it. No matter how big the moment can get, it's important to stay in the present and not let your mind wander into the future or the past.
There's a few things I do to help cope with the nerves during a tournament. I sometimes have a tendency to speed up under pressure, so I always try to do everything in slow motion to help slow myself down. I feel like I walk slower and breathe slower so it keeps me more in the moment.
The most important thing to do under pressure is to repeat your routine every single time before the shot you are about to hit. Developing a pre-shot routine allows you to fall in love with the shot you're about to hit instead of thinking about past shots or future shots or what may or may not happen.
Visualizing the shot you want to hit and FULLY committing to that shot will help limit all the outside factors that can affect you. Once that ball is in the air, all you can do is accept the result and go through the routine again on the next shot. My routine hasn't changed in years and I always go through the same process before I attack each shot.
4. WHAT DOES YOUR POST-TOURNAMENT ANALYSIS CONSIST OF?
It's definitely super important to have a short memory in golf. You get beat up in this game and dwelling on past results may not be helpful all the time if you don't approach it the right way.
What I like to do is evaluate my round either on my ride or flight home, the good stuff and bad stuff, and then get ready to go to work the very next day preparing for my next event.
I am a big time feel player so I like to remember a good feeling I had during a certain part of the round or a certain shot I hit and try to replicate that in my upcoming practice sessions. If I felt like there was a point in the round where I struggled with something or had a certain miss I was trying to avoid, I think about what it was and try to re-create the situation in my practice session.
For example, if I was hitting to a pin that was tucked on the left side of the green and I missed it left, I pick a target on the driving range in practice and I imagine there is trouble to the left so I focus on making sure I hit it to the right of my target. Putting yourself under pressure in practice to try and simulate tournament conditions is the best way to practice and prepare yourself.
GET READY TO PLAY WITH TGA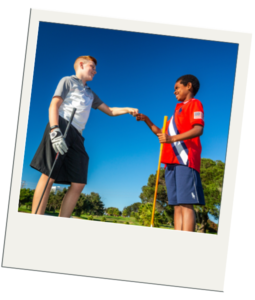 Summer season is here which means the weather is warm and camps are up-and-running!
Find your closest TGA chapter to view upcoming programs.